The English saying "experience is the best teacher" is remarkably similar to the wisdom imparted to me by my Ugandan parents. From these two sources of wisdom, I realize that reflection prepares a person to anticipate what time conceals and be open to what time reveals.
The decision to take up leadership of ASEC in the U.S. is the most difficult I have ever made in my 28 years of religious life. The difficulty was not so much for the mission as for the context. A context absolutely devoid of personal, family or congregational relations.
I would arrive in the U.S. "Alone with none but thee, my God" (St. Columbus 521-597).
However, knowing that ASEC was a foundation of religious women in the U.S. dedicated to serving religious women in Africa motivated me to take bold steps to contribute to this important sister-to-sister mission.
When I left behind my beloved motherland of Uganda on November 13, 2017, I was filled with hope, but not without fear. It's one thing to learn about the U.S. from the media, but it's another to be totally immersed in a new country, a new culture and a new language with new people. But, my religious vow of obedience and the values of my family guided me. When I stepped on U.S. soil on November 14, the warm welcome I received from Sr. Margaret, Dr. Farr and Sr. Kevin at the airport, the kindness of the sisters at the IHM center, the support of ASEC's Board, staff and the generosity of strangers in a new town proved the teaching of my parents to be true. Before I knew it, on November 20, I was stepping into my leadership role at ASEC after an induction by Board Member and Interim Executive Director, Sr. Marcia Sichol, SHCJ. I started this journey with trust, openness and flexibility.
I knew that 'time' was the most important resource in my hands as I delved deeper into the knowledge of ASEC.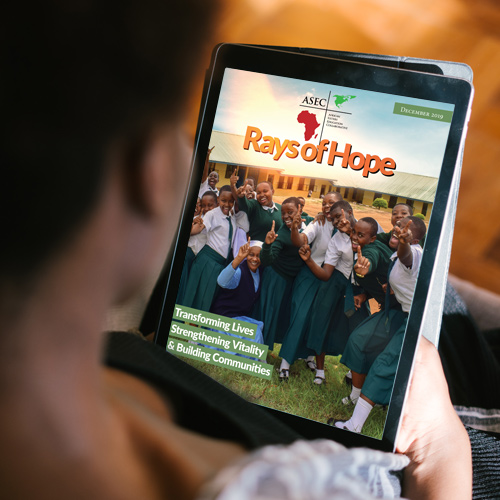 Read Rays of Hope
Learn more about Catholic Sisters transforming poor, rural communities across Africa in our FREE Rays of Hope ebook.
Read It Now »
The source of my strength was indeed God and the practical human skills and values I learned from my family. I grew up in a family of diverse cultural, ethnic, religious and social backgrounds; I was taught that 'people are people' no matter what their affiliations. I knew that in a community of people, there will always be individuals with whom I will connect.
One year down the road, I look back with gratitude to time. Initially, time conceals our future and can make us feel like we are navigating the unknown. I believe that this concealment also strengthens our trust in God that we are on the right path. It makes us work together to bring about change. Was this not the trust that motivated the founders of ASEC? Time is truly the best ally in a collaborative like ASEC! I believe that time will eventually reveal what God has concealed for ASEC's future in the treasury of His goodness. The stories of ASEC's vibrancy and success continue to unfold as a testimony of what time conceals! Of course, the defining factor of ASEC's success is the remarkable commitment and effort of our Board of Directors, U.S. staff and Africa staff, as they continue to build thriving partnerships. Yet, ASEC's full potential still remains in the treasury of time.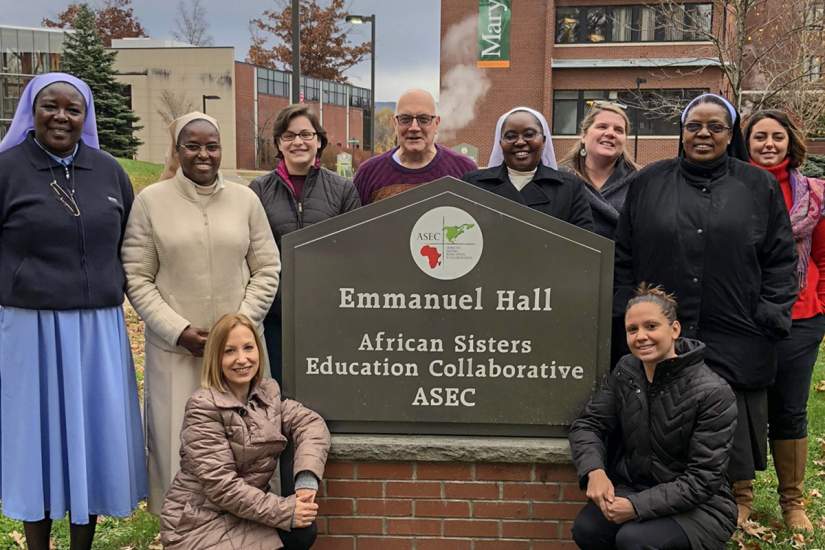 ASEC comes to Africa with a collaborative approach, which is more transformative, empowering and respectful of the local capacity of religious women, who achieve so much for communities in Africa. As I enter into my second year of service at ASEC, I am full of hope and gratitude to God for blessing me with the time and overwhelming support required to navigate the unknown world! I look forward to seeing ASEC's collaborative approach lead the global community toward healthy international relations.