God's ways are not our ways!
As I looked forward to a very busy May 2017 schedule, I wanted very much to join the SLDI program in Administration. But, on 15th March my superior sent me the message that the course was beginning on 30th April until 26th May.
I was in dilemma! How was I to prepare the standard eight learners for their National Examinations, as well as their send-off ceremony? We had invited the former first lady for the function, so extra planning and preparation were a must.
So what should I do? Delegate the responsibility to someone else, or postpone the course?
I prayed to God to help me make the right decision.
After inquiring about the starting date of the next program, I was told that it was beginning on 31st July to 26th August. This was another very hectic time for me. All our congregational meetings were planned for August. I discussed the matter with my superiors and fortunately I was granted the permission to go ahead. So I committed myself to both courses.
I think what motivated me to do this was the course I had taken in October 2016 in Web Design. I had a great desire to continue with the Administration training after completing the Web Design course. I informed my superior all about the program. I also contacted the ASEC office in Malawi through the country's director, Sr. Hilaria Chombo, SBVM. All the preliminary processes were completed and I was on my way to a new educational achievement.
The day arrived and what a surprise it was to find out that our facilitators for this course were none other than Mrs. Brigid Blake and Sr. Gail Cabral, two women who are closely linked with ASEC-SLDI programs in the United States. I thoroughly enjoyed the course. I learned many skills and acquired much knowledge which is applicable to my position as an educational leader. The following topics were part of the course which greatly helped me:
strategic planning
human resource management
proposal writing
effective leadership
As I go back to my ministry I am very happy and confident that the course has empowered me. I will surely share this knowledge and skills with my sisters in community and the teaching staff members with whom I work.
Apart from what Mrs. Brigid Blake and Sr. Gail taught, their own simple life, dedication, teamwork, and hardworking spirit challenged me. Looking at their ages in relation to the work which they accomplished was a tremendous inspiration for me.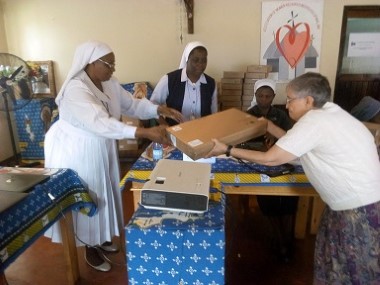 Another positive outcome of the course was that we received computers. This made the coursework easy, and will continue to assist me as I go through the whole program. It will also help me in my ministry for data collection as well as mentoring others in different skills.
Thank you very much. I am very grateful to the Lord. It was a blessing for me to meet Mrs. Bridgid Blake and Sr. Gail Cabral. I also would like to express my appreciation to ASEC-SLDI for the program, to our Sponsors, and to the organizing committee in the ASEC office in Malawi. It has been a blessing for me to meet all you new friends. May the Good Lord bless you all abundantly. Truly Gods ways are not our ways.