The International Day of Women and Girls in Science aims to support women scientist and engage girls in the sciences, shining a light on gendered barriers to access. ASEC supports Catholic Sisters in Africa interested in persuing science-related fields via its Higher Education for Sisters in Africa (HESA) and Scholarship programs.
Globally, Women and girls are restricted from accessing education in the sciences. The imbalance is significant, with one studying reporting a probability of 18%, 8%, 2%, for female students to receive bachelor's, master's, and doctor's degrees in science-related fields (United Nations). Even when women overcome the odds in professional settings they are underrepresented in leadership and decision making roles, continuing to face discrimination at the highest level. This especially the case in the global South, due to gender stereotypes and strong sociocultural norms.
Catholic Sisters in Africa are not automatically associated with science or even academics. The same sociocultural factors limiting women in Africa from participating in science, restrict Catholic Sisters from engaging in the field.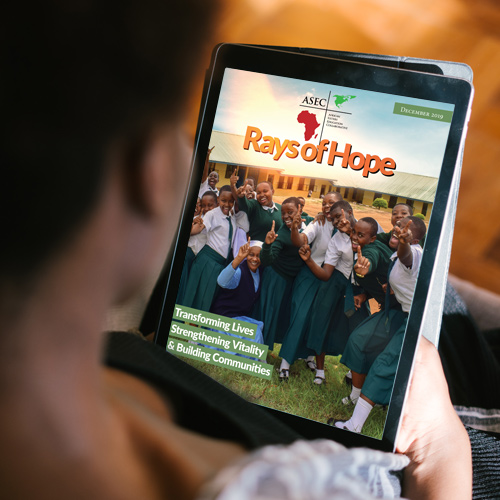 Read Rays of Hope
Learn more about Catholic Sisters transforming poor, rural communities across Africa in our FREE Rays of Hope ebook.
Read It Now »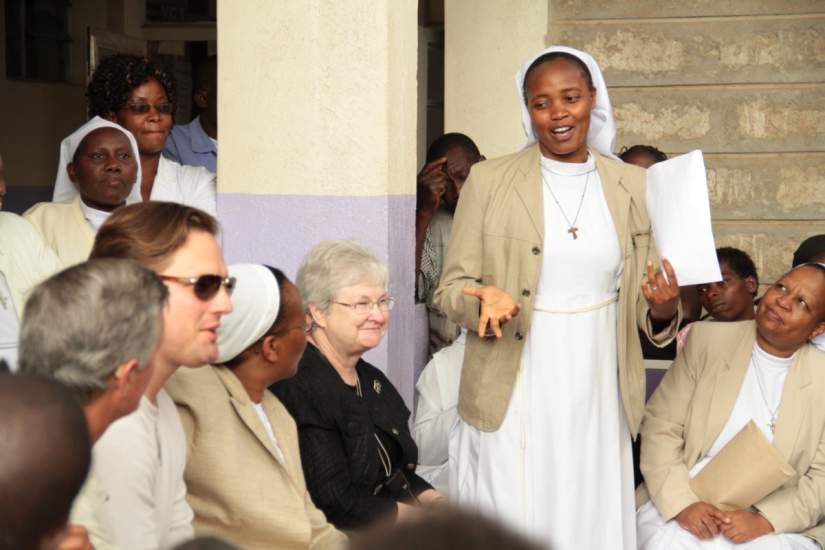 Women studying science through our HESA program
In recent years, Catholic Sisters (often referred to as Nuns) are beginning to emerge as actors in the science-related fields. ASEC is facilitating higher education access for Catholic Sisters in Africa, including in science fields. Through the HESA program, ASEC is supporting approximately 1,700 Catholic Sisters in 10 countries to obtain undergraduate and master's degrees at 23 partner colleges and universities in Africa and the United States.
Analysis of 2017 HESA student records found Sisters studying for college diplomas, bachelor's degrees and master's degrees in computer science, applied mathematics, biology, applied microbiology, environmental studies and medical sciences, including 40 Sisters pursing degrees in Nursing.
Additionally, many Sisters enrolled in HESA are studying to become educators at primary and secondary schools. Among over 100 Sisters pursuing education degrees, about a quarter are studying with teaching specializations in mathematics, biology, and chemistry.
On graduating, HESA alumnae will share fruit of their education at the community and societal level, providing services and addressing emergent needs. As scientists and practitioners, they will serve as an example to girls and women that science is accessible to them.
Already, HESA Alumnae are becoming leaders in their profession. Sr. Esther received her Bachelor of Science in Nursing in February 2016. Today she is the executive director of a hospital owned by her congregation and is pursuing a master's degree.
Here are the exact statistics:
HESA Program Statistics (2017)
Computer
1 - Maters of Science, IT Management
1 - Bachelor of Science Computer Science
Mathematics
1 - Masters of Science in Applied Mathematics
Biology
1 - Bachelor of Science in Biology
2 - Bachelor of Science in Applied Micro Biology
2 - Master of Science in Environmental Studies
Medical sciences
40 bachelor's degrees and diplomas in Nursing
1 Diploma in Assistant Medical Doctor
1 Diploma in Diagnostic radiology
1 Diploma in Pharmacy
1 Bachelor of Science in Public Health & Allied Science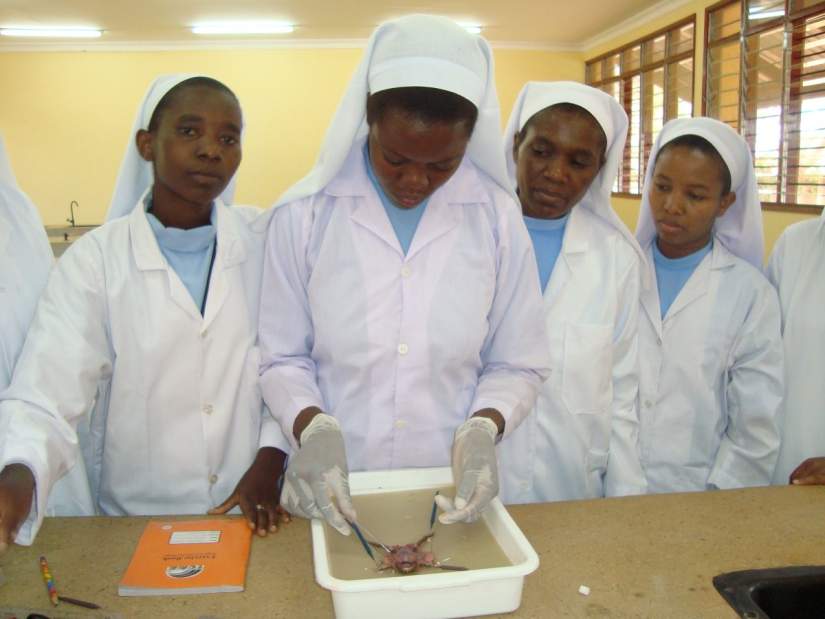 Women & girls studying science through our Scholarship program
In 2010, ASEC received support from the GHR Foundation, Minneapolis, MN, to support the Bigwa Secondary School Capital Project to develop math and science facilities at the school.
Bigwa Girls Secondary School in Morogoro, Tanzania, is a residential high school for religious women sponsored by Tanzania Catholic Association of Sisters (TCAS). The grant funded ASEC
to support Bigwa with construction of labs for physics, chemistry and biology
to upgrade science and math curriculum
to implement staff development programs for science teachers.
ASEC also funded Bigwa to establishing an internet connected computer lab, train a lab manager, provide summer tutorials in math and English for newly registered Sisters, build a new dining hall and kitchen, replacing a dormitory destroyed by fire and set up an English language lab.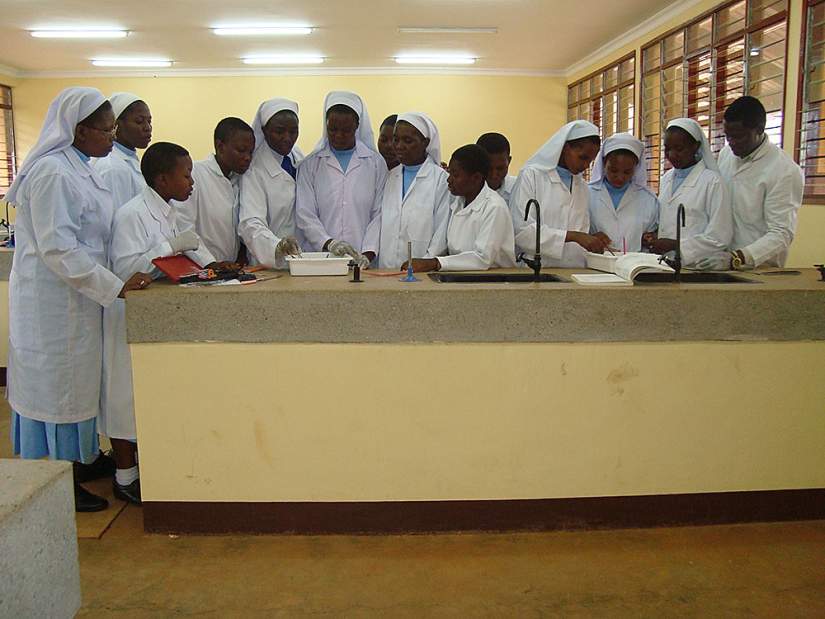 Bigwa Girls Secondary school educates Catholic Sisters who do not hold high school diplomas. In Tanzania, 60% of Sisters lack secondary school credentials. To date, ASEC has supported approximately 371 women religious to attend Bigwa.
Our students studying at Bigwa are typically women in their twenties who have gone through formation in their communities. For a variety of reasons, such as a preference for educating male children or poor access to a secondary school, they did not attend high school before entering religious life.
In recent years, Bigwa also admits local school aged girls.
With improved facilities and curriculum, Bigwa Secondary School advanced from "O" (Ordinary) to "A" (Advanced) level classification. The change to A-Level status qualifies graduates of Bigwa to enter universities in Tanzania, thus increasing the capacity of sister alumnae to contribute financially contribute to their communities.
Improvements to the school were completed in March 2011.
Before construction, the Science lab a Bigwa was a one room classroom with almost no equipment. It could not support a laboratory.
"It is easier to understand Science when you touch because you are visualizing what is taking place and why things are happening…I now understand the purpose of experiments and study well because I am able to conduct experiments. I am grateful for the people who have helped us to have biology, chemistry and physics laboratories."-Sr. Marietta, a student at Bigwa, March 2011.