Sponsor a Sister
Sponsor a Sister's Education
Fidesta
2017-2019

Fidesta wants to be a medical doctor so she can control diseases like cancer, malaria and HIV/AIDS.
Your sponsorship will provide a Sister, just like Fidesta, with secondary school tuition; the first step in achieving her career goals. Just $20 will pay for one week of a Sister's education.
Donate »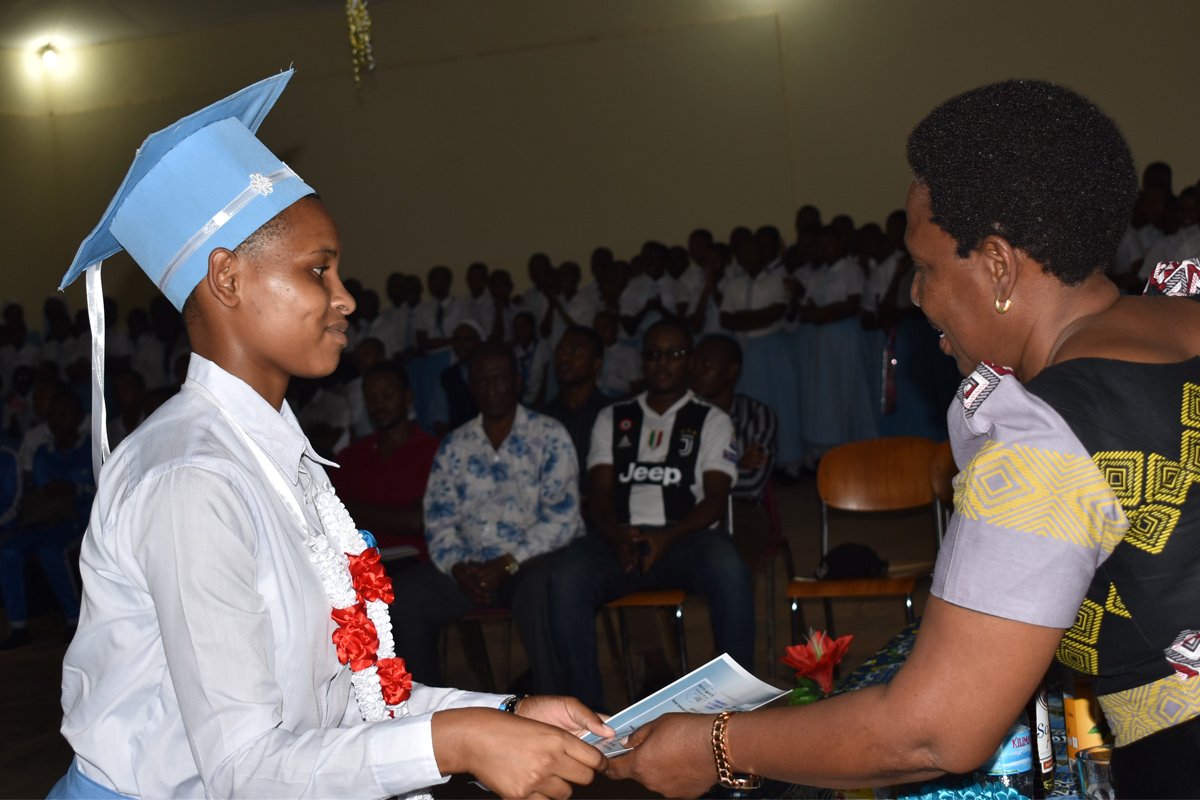 Update on Fidesta
My name is Fidesta. I am a young lady of 21 years old. I have accomplished my Advanced level of Secondary Education at Bigwa Sisters Seminary on 18th May, 2019.
May I take this opportunity to give African Sisters Education Collaborative (ASEC) my thanks for the financial support in my academic studies because without your assistance I could not afford to reach and finish Advanced level in peace. May the Almighty God bless you all!
I am also praying for you to God so that He can bless you in your everyday life activities. My dream and wish is to continue with my studies up to Masters if the results will allow me to do so. I continue to thank God who enabled me to score Division Three in my Advanced level of Education, National examinations results. Currently I still struggle to find support for my first degree or even advanced diploma but I found none. Frankly speaking I still need your financial support so that I can be able to get a starting point in life after acquiring a bachelor degree in any health course.
With blessings and prayers.
Yours faithfully;
Fidesta
Meet Fidesta, the future of quality healthcare
While communities across Africa are making strides in health and wellness, there are still many people suffering from preventable diseases.
Fidesta is one of the future leaders in medicine for Tanzania. She wants to be a medical doctor but doesn't have the resources to attend school. With your support, she will be able to care for those suffering from disease, illness and preventable death. There are so many people in Africa who desperately need these skills in order to overcome their sickness and manage their health.
Enjoy Fidesta's essay below— you'll quickly see how much hope she holds for the future of Africa. You can help her make greater strides towards health and wellness in Africa by donating to support a Sister's education today.
Can you help another Sister, just like Fidesta, who needs you?
Donate »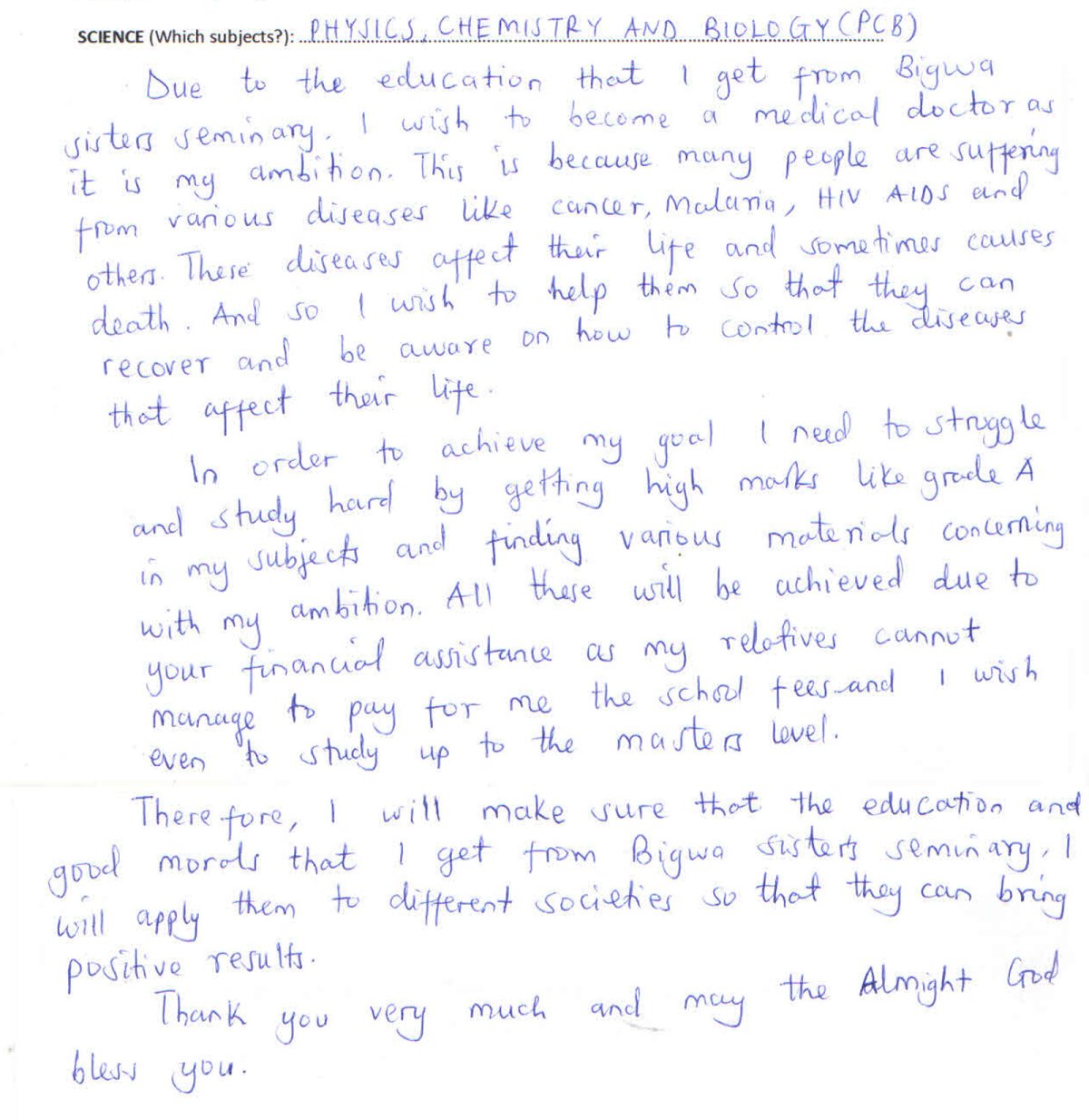 Essay Transcription:
Due to the education that I get from Bigwa sisters seminary I wish to become a medical doctor as it is my ambition. This is because many people are suffering from various diseases like cancer, malaria, HIV AIDS and others. These diseases affect their life and sometimes causes death. And so I wish to help them so that they can recover and be aware on how to control the diseases that affect their life.

In order to achieve my goal I need to struggle and study hard by getting high marks like grade A in my subjects and finding various materials concerning with my ambition. All these will be achieved due to your financial assistance as my relatives cannot manage to pay for me the school fees and I wish even to study up to the masters level.

Therefore, I will make sure that the education and good morals that I get from Bigwa Sisters Seminary I will apply them to different societies so that they can print positive results.

Thank you very much and may the Almight God bless you.
Become a Ray of Hope today
Your sponsorship will provide a Sister like Fidesta with secondary school tuition; the first step in achieving her career goals. Just $20 will bring a Ray of Hope into a Sister's life and those she will serve.
Bigwa Tuition Costs: $20 (one week) | $85 (one month) | $1,000 (one year) | $2,000 (two years)
Donate »
Learn more about ASEC's Scholarship Program
Watch the video below to learn more about how ASEC's Scholarship Program bridges the gap to higher education for Sisters in Africa.
About ASEC
The African Sisters Education Collaborative (ASEC) was established in 1999 by four Catholic universities in the U.S. and their congregations:
the Sisters of Saint Joseph of Philadelphia (Chestnut Hill College)
the Sisters of IHM of Scranton (Marywood University)
the Sisters of Saint Francis of Philadelphia (Neumann University)
the Society of the Holy Child Jesus (Rosemont College)
That same year, ASEC set up computer labs and began providing technology workshops to African Sisters in five pilot countries: Ghana, Nigeria, Kenya, Uganda and Tanzania. We received 501(c)(3) nonprofit approval in 2006.
ASEC now serves 10 countries in Sub-Saharan Africa with over 50 partnerships in the USA and Africa combined.
Need more info? Read our extensive evaluation reports to understand our program outcomes and performance. Our reports are dated back to 2007! Don't forget to check out our Press & Media page, too.
ASEC Sponsors & Partners
ASEC Founding Members
ASEC Associate Members
ASEC Friends of ASEC
ASEC Research Initiative Partners