Sponsor a Sister
Sponsor a Sister's Education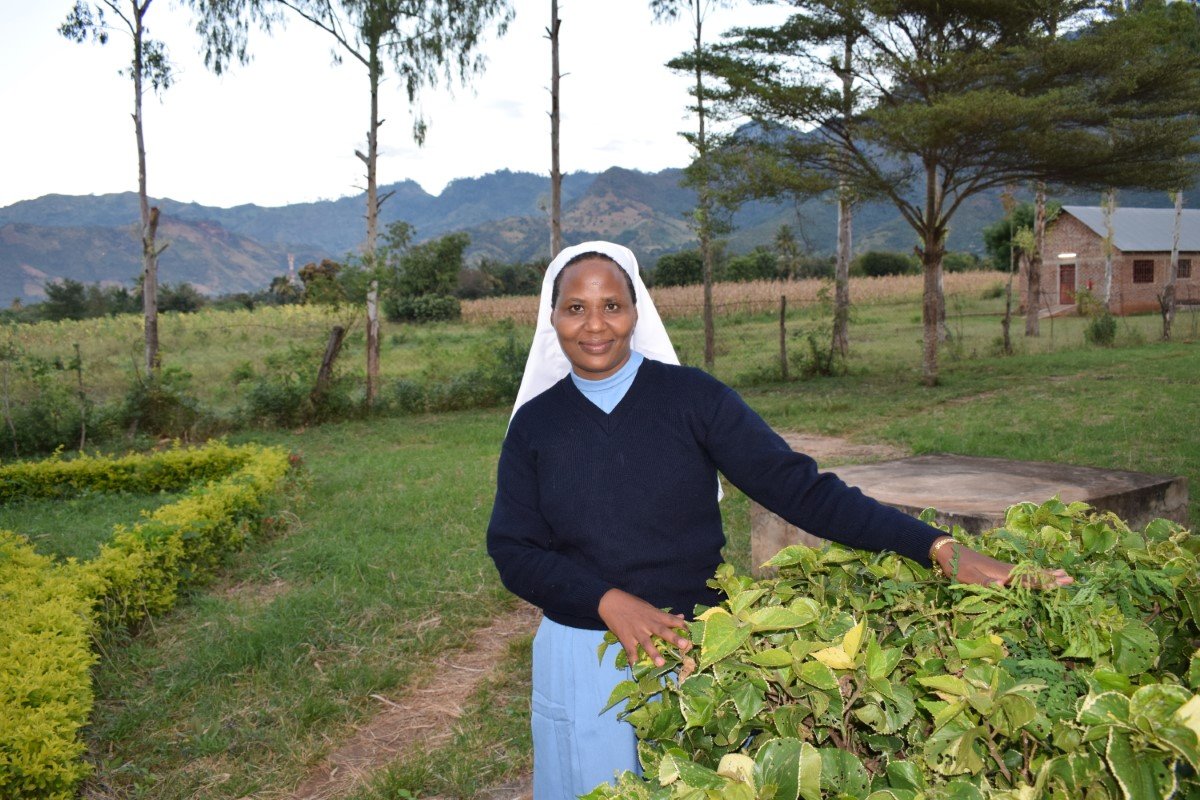 Sr. Hiltruda
2018-2020

Sr. Hiltruda wants to study agriculture so she can give her congregation professional input raising livestock and running their farm.
Your sponsorship will provide a Sister, just like Sr. Hiltruda, with secondary school tuition; the first step in achieving her career goals. Just $20 will pay for one week of a Sister's education.
Donate »
Meet Sr. Hiltruda, the future of entrepreneurship in agriculture
While communities across Africa are making strides in farming, there are still so many people suffering from extreme poverty and hunger.
Sr. Hiltruda, OSB-CAM is one of the future leaders in entrepreneurship for Tanzania. She wants to study farming but doesn't have the resources to attend school. With your support, she will be able to become an expert in farming techniques and raising livestock in order to help her congregation provide food for her community. Those living in extreme poverty in Tanzania desperately need her support.
Your donation to ASEC's educational programs will provide the skills a Sister, just like Sr. Hiltruda, needs to serve her community and achieve her dream of attaining agriculture credentials.
Enjoy Sr. Hiltruda's essay below— you'll quickly see how much hope she holds for the future of Africa. You can help her make greater strides towards successful agriculture practices in Africa by donating to support a Sister's education today.
Can you help another Sister, just like Sr. Hiltruda, who needs you?
Donate »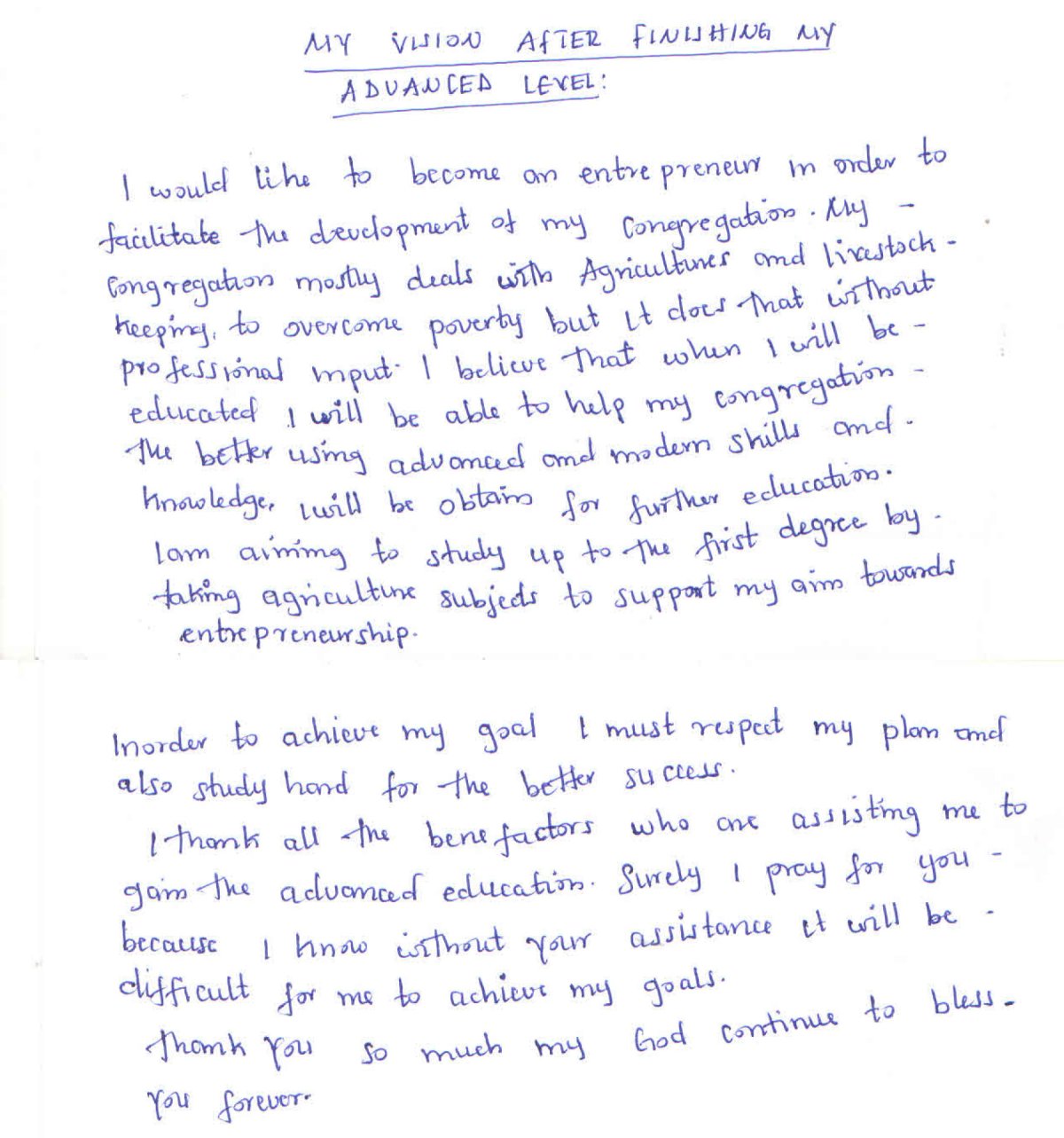 Essay Transcription:
I would like to become an entrepreneur in order to facilitate the development of my congregation. My congregation mostly deals with agricultures and livestock keeping to overcome poverty but it does that without professional input. I believe that when I will be educated I will be able to help my congregation the better using advanced and modern skills and knowledge, I will be obtain for further education. I am aiming to study up to the first degree by taking agriculture subjects to support my aim towards entrepreneurship.

In order to achieve my goal I must respect my plan and also study hard for the better success.

I thank all the benefactors who are assisting me to gain the advanced education. Surely I pray for you because I know without your assistance it will be difficult for me to achieve my goals.

Thank you so much my God continue to bless you forever.
Become a Ray of Hope today
Your sponsorship will provide a Sister like Sr. Hiltruda with secondary school tuition; the first step in achieving her career goals. Just $20 will bring a Ray of Hope into a Sister's life and those she will serve.
Bigwa Tuition Costs: $20 (one week) | $85 (one month) | $1,000 (one year) | $2,000 (two years)
Donate »
Learn more about ASEC's Scholarship Program
Watch the video below to learn more about how ASEC's Scholarship Program bridges the gap to higher education for Sisters in Africa.
About ASEC
The African Sisters Education Collaborative (ASEC) was established in 1999 by four Catholic universities in the U.S. and their congregations:
the Sisters of Saint Joseph of Philadelphia (Chestnut Hill College)
the Sisters of IHM of Scranton (Marywood University)
the Sisters of Saint Francis of Philadelphia (Neumann University)
the Society of the Holy Child Jesus (Rosemont College)
That same year, ASEC set up computer labs and began providing technology workshops to African Sisters in five pilot countries: Ghana, Nigeria, Kenya, Uganda and Tanzania. We received 501(c)(3) nonprofit approval in 2006.
ASEC now serves 10 countries in Sub-Saharan Africa with over 50 partnerships in the USA and Africa combined.
Need more info? Read our extensive evaluation reports to understand our program outcomes and performance. Our reports are dated back to 2007! Don't forget to check out our Press & Media page, too.
ASEC Sponsors & Partners
ASEC Founding Members
ASEC Associate Members
ASEC Friends of ASEC
ASEC Research Initiative Partners