ASEC News
ARU Secretary General commends the good work of ASEC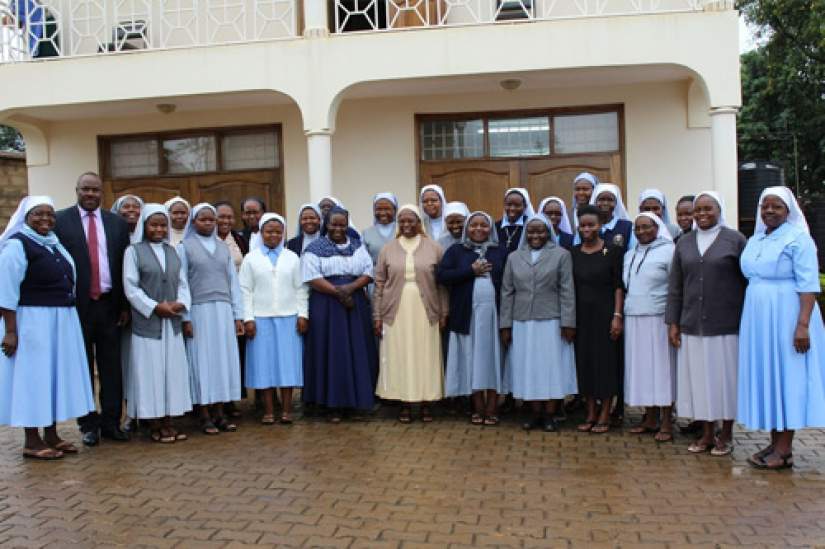 Posted on

Fri, May 5, 2017
Sr. Margaret Kubanze, Secretary General of Association of Religious in Uganda, has commended the work done by African Sisters Education Collaborative in empowering religious women with leadership and administration skills.
Sr. Margaret opened the one-month SLDI workshop in administration, which was facilitated by Mr. Vincent Freedom Kaheeru for Profiles International Limited. 25 sisters from 14 different religious institutes serving in Uganda attended the workshop at ARU Secretariat. During the workshop, Sr. Margaret called upon the participants to be open to learning and later put in practice the skills they acquire.
Later that morning the Chaplain of the ARU Secretariat, Rev. Fr. John Byamukama, blessed the laptops to be given to the sisters for their study. The 25 laptops were then distributed to the sisters attending by ASEC's Uganda Country Director, Sr. Mary Germina Keneema, MSMMC.
This is one of four ASEC workshops that will be conducted for sisters in Uganda this year. The next workshops will be in July on financial management, in September on administration, and in October on finance. This year ASEC is expecting to train about one hundred Ugandan sisters in the SLDI program (50 in administration and 50 in finance).
Categories: sldi
Article Submitted by:

Sr. Mary Germina Keneema, MSMMC
Director – Uganda
Keep Reading...
Acquiring skills for more effective leadership with SLDI administration training
Twenty-seven women religious from twenty-three congregations participated in the ASEC-SLDI Administrative track training from June 4 to July 1, 2017 at the Institute for Formators, Du – Jos, Plateau State.
Conrad N. Hilton Foundation visits SLDI participants in Zambia during finance training
Sisters in Zambia express gratitude to ASEC and The Conrad N. Hilton Foundation for the love and support they show to African Sisters. The expression comes with the timely visit to Lusaka by Hilton Foundation staff.
The SLDI web design course gave me confidence, helping my congregation and ministry
Sr. Astridah has had a lot of success in her ministry through the skills she gained in the SLDI Web Design course.
Back to news »
Invest in Sisters Leadership Development Initiative (SLDI)
Consider supporting a sister to study in the SLDI program for $5,000/year.
Donate Now »