ASEC News
ARU Secretary General commends the good work of ASEC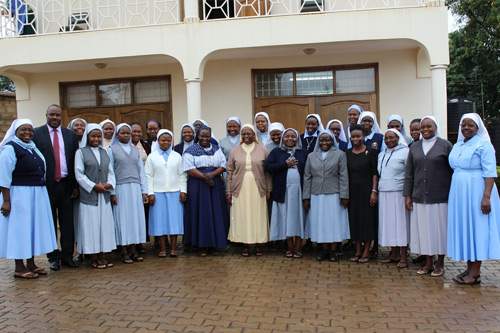 Posted on

Fri, May 5, 2017
Sr. Margaret Kubanze, Secretary General of Association of Religious in Uganda, has commended the work done by African Sisters Education Collaborative in empowering religious women with leadership and administration skills.
Sr. Margaret opened the one-month SLDI workshop in administration, which was facilitated by Mr. Vincent Freedom Kaheeru for Profiles International Limited. 25 sisters from 14 different religious institutes serving in Uganda attended the workshop at ARU Secretariat. During the workshop, Sr. Margaret called upon the participants to be open to learning and later put in practice the skills they acquire.
Later that morning the Chaplain of the ARU Secretariat, Rev. Fr. John Byamukama, blessed the laptops to be given to the sisters for their study. The 25 laptops were then distributed to the sisters attending by ASEC's Uganda Country Director, Sr. Mary Germina Keneema, MSMMC.
This is one of four ASEC workshops that will be conducted for sisters in Uganda this year. The next workshops will be in July on financial management, in September on administration, and in October on finance. This year ASEC is expecting to train about one hundred Ugandan sisters in the SLDI program (50 in administration and 50 in finance).
Article Submitted by:

Sr. Mary Germina Keneema, MSMMC
Director – Uganda
Keep Reading...
20 Catholic Sisters in Malawi are realizing their dreams
Access to computers has been a major challenge to most of the Malawians. Luckily for those women religious attending the SLDI Administration workshop this dream has become a reality!
Sisters in Zambia share experiences about the SLDI program
20 sisters are currently enrolled in the Administration Workshop in Lusaka, Zambia share their experiences about the SLDI program.
Laptops have arrived in the Uganda office for HESA and SLDI students
The 100 laptops are a donation from ASEC Office in USA to the Ugandan sisters who will participate in the SLDI and HESA programs this year.
Over 500 Congregational leaders benefit from six-day SLDI program
In 2016, a new component was introduced in ASEC's SLDI program to provide training to superior generals and councilors. Over 500 congregational leaders have participated across ten countries.
SLDI Program in Ghana – A Perspective
ASEC-SLDI Instructor Bright E. Biney reflects on the SLDI program and how its affected Sisters in Ghana.