ASEC News
What I learned from the SLDI program (Finance Track)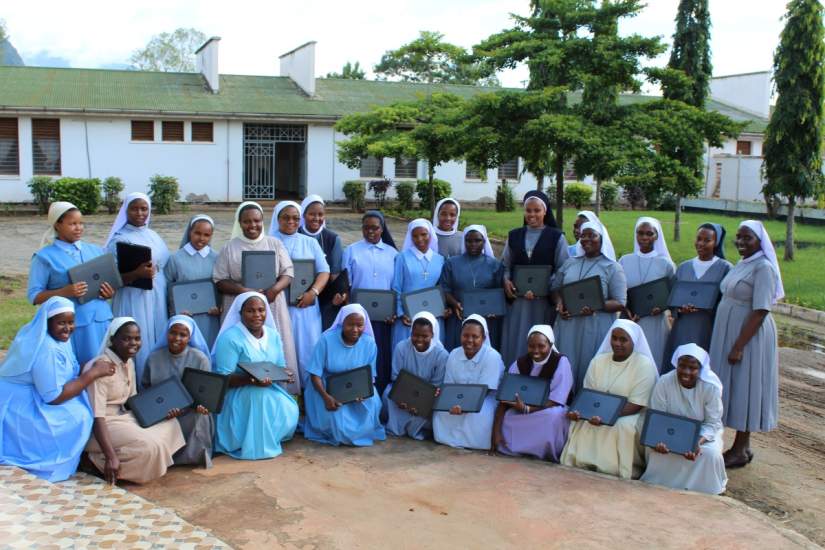 Posted on

Thu, Jun 22, 2017
Sr. Crescensia reflects how her experience in the SLDI Finance program has increased her technology skills, made her more confident in her work and inspired her to mentor other sisters in her congregation.
My name is Sr. Crescensia Roman. I belong to the congregation of the Franciscan Capuchin Sisters (FCS) of Maua in Tanzania Kilimanjaro Region. Currently, I work as a records keeper, secretary and the cashier of St. Pio – Emmaus Dispensary which belongs to my congregation.
It is surely a golden opportunity for religious women in Tanzania to attend the SLDI program. I am so delighted to share how the SLDI courses assist us in the improvement of mission activities, thus extending evangelization even to non-believers in my country Tanzania. The group discussions at the workshops help all of the course participants to reduce many challenges we meet in serving people. I am already continuing the chain knowledge by mentoring some sisters of my congregation.
Basic Computer Workshop
The valuable Basic Computer course I attended last year sharpened my technology skills. I was so glad that I could utilize different devices like smartphones and computers to communicate with people and stay updated through email and WhatsApp. Additionally I have learned to use the online library to access various research and articles. The Basic Computer course supported me to prepare an exceptional Annual Report for our Dispensary to the District Commission Officer!
Finance Workshop
I was one of 24 sisters who attended the SLDI Finance workshop from 6th May to 3rd June, 2017 at the Holistic Education Centre. I recognized that I knew very little about finance, and this workshop gave me an opportunity to sharpen my skills in financial field. Since the workshop, I have already studied various topics beneficial to my career like Stewardship, Accountability, Responsibility, Integrity, Budget, Financial Statements, Bank reconciliation, Project proposal writing, and more. With this knowledge I am able to perform my job more effectively, with professionalism and confidence. I hope after this SLDI finance course that next year's (2018) anticipated budget will be a remarkable one due to the knowledge and experience I've gained.
Expression of Gratitude
I am so excited to be provided with a laptop. For me, it has been a dream to own such powerful tool to assist me in simplifying my job. It helps me to be more professional in my work. I express my sincere gratitude to our donors and sponsors, ASEC Tanzania staff, ASEC founders, and to the staff in the USA. God bless you abundantly.
Therefore, I promise to keep praying to Almighty God, to protect, bless and give all who have contributed to the ASEC program development.
More religious women who are empowered = more people in need who can be served in African countries!
Categories: sldi, reflections
Article Submitted by:
Sr. Crescensia Roman, FCS
SLDI Finance Track, Tanzania
Keep Reading...
Kenya & Africa in a Globalizing World: Service Learning Trip to Kenya 2017, a reflection
Not only do I want to thank ASEC for arranging this eclectic program and allowing me and my group to see the many aspects of a developing country, but I will be ever grateful for the friends I made, because our relationships and interactions made such a powerful impression.
Acquiring skills for more effective leadership with SLDI administration training
Twenty-seven women religious from twenty-three congregations participated in the ASEC-SLDI Administrative track training from June 4 to July 1, 2017 at the Institute for Formators, Du – Jos, Plateau State.
The story of Caroline and Doreen
Sr. Dorice tells the story of two girls with the same educational opportunities and how their choices impacted the rest of their lives. She reflects on the gift of quality education in relationship to Catholic sisters in Africa.
Back to news »
Invest in Sisters Leadership Development Initiative (SLDI)
Consider supporting a sister to study in the SLDI program for $5,000/year.
Donate Now »