ASEC News
ASEC Anthology "Voices of Courage" book launch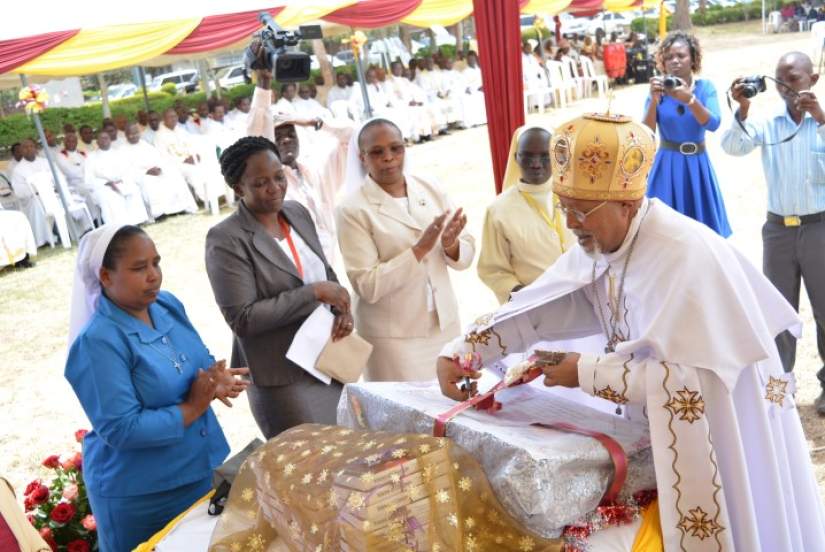 Posted on

Thu, Oct 1, 2015
A book launch for Voices of Courage was held at CUEA, Nairobi, Kenya.
With a grant from the GHR Foundation, ASEC sponsored Voices of Courage: Historical, Sociocultural, and Educational Journeys of Women Religious in East and Central Africa. The anthology, which brings together scholars from the U.S. and African countries, is a collection of case studies, research, and scholarly reflections on the role of Catholic sisters in Africa, in their communities, and in a larger societal context.
"Drawing on empirical studies of women religious, the book documents the commitment of sisters to the education, healthcare, and spiritual enrichment of people, especially those who are impoverished," commented Donald E. Miller, Executive Director, Center for Religious and Civic Culture, University of Southern California. A book launch was held October 1, 2015, at the Catholic University of Eastern Africa (CUEA). The ceremony was attended by the collection's chief editors, Sr. Jane Wakahiu, LSOSF, Ph.D., Peter I. Gichure, Ph.D., and Ann Rita K. Njageh, Ph.D., as well as women religious, SLDI and HESA students, CUEA students, and religious from around the region.
Categories: general, research
Keep Reading...
Kenya & Africa in a Globalizing World: Service Learning Trip to Kenya 2017, a reflection
Not only do I want to thank ASEC for arranging this eclectic program and allowing me and my group to see the many aspects of a developing country, but I will be ever grateful for the friends I made, because our relationships and interactions made such a powerful impression.
ASEC Service Learning Trip to Kenya 2017: a Reflection
8 students from Marywood University & Chestnut Hill College attended a 3-week service trip to Kenya this summer. They provided service at various sites, including a refugee center, a hospital, a home for street boys, and an orphanage for both physically and mentally disabled children.
2017 ASEC Annual Board Meetings take place at Marywood University
ASEC held its annual board meeting on April 25, 2017, in Scranton, Pa. The SLDI-HESA Advisory Board meeting was held the day prior, April 24.
Back to news »
"Very quietly you're impacting so many lives through this program."
"...and you're giving these wonderful, faithful women a chance to succeed, and in their own little corner of the world... feel empowered."

-Lisa Mazzarella, HESA Instructor & ASEC Donor
the gift of a good education »