ASEC News
ASEC Anthology "Voices of Courage" book launch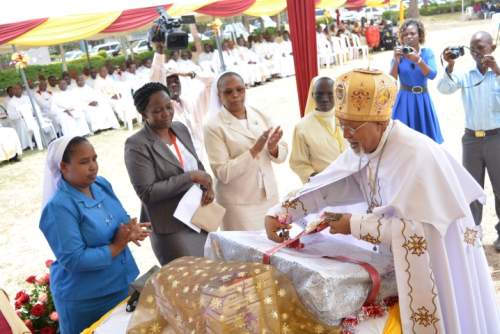 Posted on

Thu, Oct 1, 2015
A book launch for Voices of Courage was held at CUEA, Nairobi, Kenya.
With a grant from the GHR Foundation, ASEC sponsored Voices of Courage: Historical, Sociocultural, and Educational Journeys of Women Religious in East and Central Africa. The anthology, which brings together scholars from the U.S. and African countries, is a collection of case studies, research, and scholarly reflections on the role of Catholic sisters in Africa, in their communities, and in a larger societal context.
"Drawing on empirical studies of women religious, the book documents the commitment of sisters to the education, healthcare, and spiritual enrichment of people, especially those who are impoverished," commented Donald E. Miller, Executive Director, Center for Religious and Civic Culture, University of Southern California. A book launch was held October 1, 2015, at the Catholic University of Eastern Africa (CUEA). The ceremony was attended by the collection's chief editors, Sr. Jane Wakahiu, LSOSF, Ph.D., Peter I. Gichure, Ph.D., and Ann Rita K. Njageh, Ph.D., as well as women religious, SLDI and HESA students, CUEA students, and religious from around the region.
Keep Reading...
ASEC Welcomes Visiting Scholar from CARA, Georgetown University
Visiting Scholar Sr. Bibiana, LSOSF, Ph.D., visited ASEC's Scranton Office from March 6-10, 2017. The week offered a space for collaborative exchange on emergent opportunities for research and program development.
CARA receives grant for four studies, visiting African scholar
The Center for Applied Research in the Apostolate (CARA) at Georgetown University receives a grant to conduct four studies of women religious and host a visiting scholar. From Global Sisters Report
Voices of Courage: New publication on Catholic sisters in Africa
Recently, GHR funded the creation of Voices of Courage—a first-of-its-kind collection of scholarly texts on the work of Catholic sisters in Africa. From GHR Foundation
Handing the pen to African sisters
About Sr. Jane Wakahiu's book, Voices of Courage: Historical, Sociocultural, and Educational Journeys of Women Religious in East and Central Africa. From Global Sisters Report