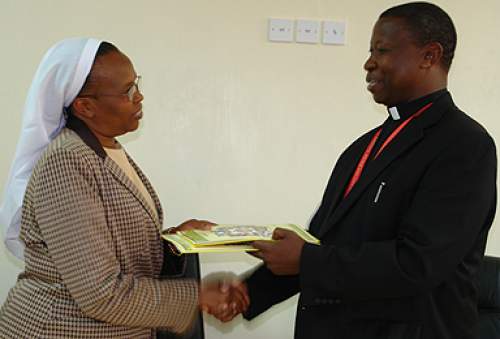 Posted on Sat, Jan 11, 2014
The partnership between CUEA and ASEC seeks to empower African Sisters to develop creative and innovative skills sets through higher education, so that they can efficiently serve the society.
Keep Reading...
ASEC Director Sr. Rose Jane Adiero laid to rest in Juba, South Sudan
ASEC staff attended the mass and burial of our friend and colleague Sr. Rose Jane Adiero, ASEC's Director in South Sudan. Sr. Rose devoted much of her life to teaching and ministering children.
260 Sisters join HESA in Phase II, Year 1
Students in Malawi, Tanzania and Uganda entered HESA in year one of phase II, with the last cohort enrolling at Catholic University of Malawi in February, 2017.
ASEC celebrates International Day of Women and Girls in Science
ASEC stands in support of Catholic Sisters in Africa working in science-related fields, especially students in its Higher Education for Sisters in Africa (HESA) and Scholarship programs.
Getting the most out of the online class discussion board
Sr. Elizabeth reflects on her cohort experience as a HESA Student at Chestnut Hills College, and how using the online discussion board has changed her view of companionship.
ASEC Uganda Alumni Association gets new executive members
Uganda Alumni Association elects new executive members during their Annual workshop and general meeting at Ggaba National Major Seminary in Kampala, Uganda.
Support Higher Education for Sisters in Africa (HESA)
Consider supporting a sister to study in the HESA program for $7,300/year
Donate Now »