ASEC News & Reflections
ASEC is serving sisters in 10 sub-Saharan African countries, providing access to educational opportunities. There is much to celebrate regarding the work of ASEC and the impact of sisters who are benefiting from our programs. We encourage our staff, sisters in the program, and friends of ASEC to contribute their own news and success stories. Below you will find impactful stories and reflections written in their own words.
ALL NEWS
general
sldi
hesa
service
scholarship
reflections
research
success
current
Now viewing Success Stories see all news »
With the leadership of SLDI & HESA alumna Sr. Petronilla, Asili Girls' Vocational School is providing quality, holistic education to girls in Northern Uganda.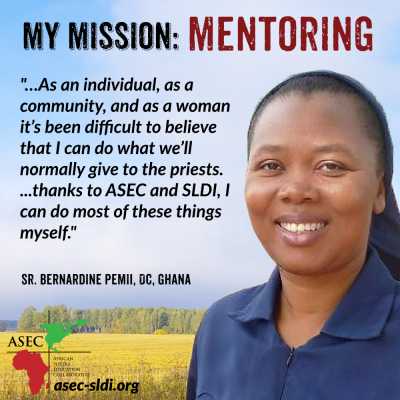 "…As an individual, as a community, and as a woman it's been difficult to believe that I can do what we'll normally give to the priests."

"...Thanks to ASEC and SLDI, I can do most of these things myself."
SLDI Mentee Sr. Catherine Wanza creates a biogas digester plant at the Ukweli Home of Hope. It saves on utility costs and allows her to teach boys from the streets of Nairobi about sustainable agriculture and farming.
"I thought the leader is just, you lead and tell people what to do, but I came to be challenged by our leadership trainer, who said, you lead from the front, and you empower the people you are leading. That's something that got stuck in my mind, so when I got here, that's what I started now, giving to my staff members."